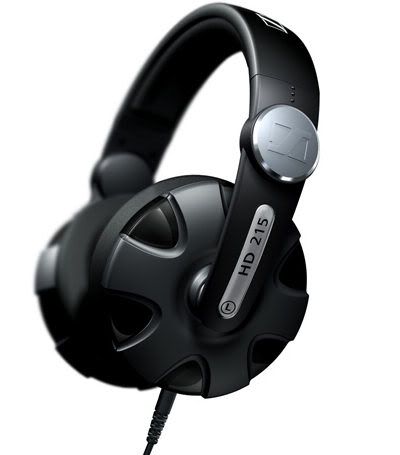 (credit: Sennheiser)
The HD215 is part of Sennheiser's new line-up and is a mid-priced, closed circumaural headphone intended for casual, studio and DJ use.
It features fairly usual specifications for this type of headphone: 32 ohms nominal impedance, 12-22000hz frequency response range and 112db @ 1Vrms sensitivity. The single-sided coiled cable is detachable and is terminated with a low-profile stereo minijack at the headphone end, and a unimatch (3.5+6.5mm with a screw-on converter) plug. The cable is around 1m when normally coiled but will extend up to 3m. The DJ friendly part of the HD215 is that the right earcup swings 90 degrees either forwards or back.
The build quality is decent, the plastic is good quality throughout and there seems to be no obviously weak spots in the design. The HD215 continues the seeming tradition of the... um... 'special' look of some of Sennheiser's mid-priced headphones. While different from the 'head mounted spoiler' visuals of the HD280 Pro or 'seventies alien / bad hairband day' look of the HD497/HD212Pro, it does nevertheless look slightly odd when worn.
For transport and protection Sennheiser supplies a nice pleather drawstring pouch. Although reasonably light at 220g and good in isolation, portable use is not this phone's strong point as it's rather large and doesn't fold. But if you are walking down the street with one of these, it undoubtedly makes a statement. Quite what that statement would be, I'm not sure.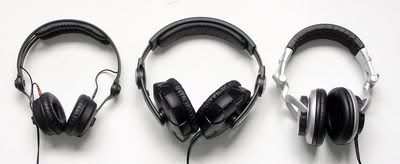 Sennheiser HD25-1, HD251 and Sony MDR-V700DJ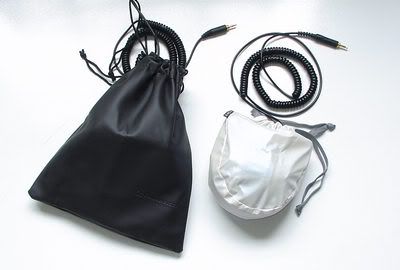 Sennheiser HD215 and Sony MDR-V700DJ in respective pouches
FIT/COMFORT/ISOLATION
The HD215's earcups are fully circumaural and the headband has plenty of scope for adjustment. The noise isolation is good, cutting out decent amounts of outside noise, and sound leakage is a non-issue.
The phone is pretty comfortable and sits nicely on the head. The cups pivot slightly in all directions to account for variances in head shape, and overall adjustability is excellent for a wide variety of heads. The balance of the HD215 is good as the weight of the headphone isn't moved towards the top of the phone due to a heavy headband such as on the Sennheiser HD280 Pro. As a result it's very stable on the head.
SOUND
Trebles can occasionally seem a little splashy, exhibiting a bit of 'cheap tin' in the sound but sibilance is well controlled. The midrange does not make a show of itself, but is well represented. The lows are very well articulated for a headphone of this price, but it is undoubtedly somewhat lean in the bass.
The sound of the HD215 reminds me a lot of the Sennheiser HD280. Even-tempered, good extension at both ends especially in the lows, pretty accurate... but a fairly flat and potentially 'uninteresting' frequency response, and a soundstage which is not hugely wide but nevertheless places instruments pretty accurately. While it is afflicted by some 'closed phone honk' (a resonance caused by the design limitations of making a closed phone) it's technically a competent headphone for the money.
From what I expected as a DJ-orientated phone, it turned out a lot less 'entertaining' than I presumed it would be. As a DJ-style / casual listening phone the HD215 could justifiably be accused of being a little flat, as it's very well-behaved and tonally quite neutral. However the HD215 does render very low bass much better than many other overtly DJ-style phones with boosted mid-bass. If you're listening to material that relies more on accurate reproduction with less emphasis on a euphonic sound, then you will probably like the HD215.
The neutral-ish sound does have distinct advantages for very long periods of listening. It's not overtly tipped up in the trebles and neither is it poundingly bassy, so it's an unfatiguing phone to listen to especially when combined with the decent comfort. It's very much a headphone you can stick on your head and forget about, so it might be a good choice for work if your environment allows you to listen to phones.
The low impedance and reasonable efficiency of the phone means that it can be powered from pretty much anything with a headphone socket. However the more powerful portables or a separate headphone amp will be more suitable to allow the full range of musical expression to be rendered by this phone. 'warm' sources with a boosted bass will undoubtedly liven up this phone a bit.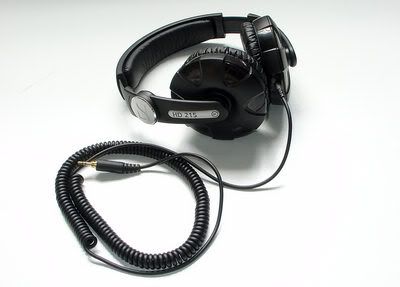 About these phones,
Headroom
has written "they do sound a bit too uneven for a strongly pleasureable listening session". Actually, the problem for some could be that as I've said above, they sound too
even
for a 'pleasurable listening session' (Sometimes I do wonder if Headroom's reviewers are all that experienced). But the HD215 works well in long listening sessions by 'getting out of your way'.
The pricing differences between Europe and US between the HD280 Pro, the nearest comparable headphone and this phone means that it's a much stronger recommendation in Europe. In the US, the HD280 may even be cheaper which makes it a better buy.
But on the whole the price is right, it's comfy and it's quite well built out of good quality materials. A polite sound which isn't overtly impressive on first listen means that it's not for everyone, but if you're a musical omnivore on a budget who needs isolation and values good accuracy over extraneous colouring in the sound, then it's worth a try.
Manufacturer link (UK site)
Headroom Link (US)
Askdirect.co.uk Link (UK)