Sony's entry-level 'pro DJ lookalike' headphones create quite an impression. Presented in stealth matt black, these cool looking supra-aural, closed headphones definitely gives you the look of the DJ without going all-out with the range topping
MDR-V700DJ
. They fold for portability and are exceedingly well made. The plastics are of high quality and the phone generally exudes a reassuring feel of solid manufacture. The V500DJ is reasonably comfortable to wear sitting fairly lightly on the head, and does not exert an unduly high pressure on the ears.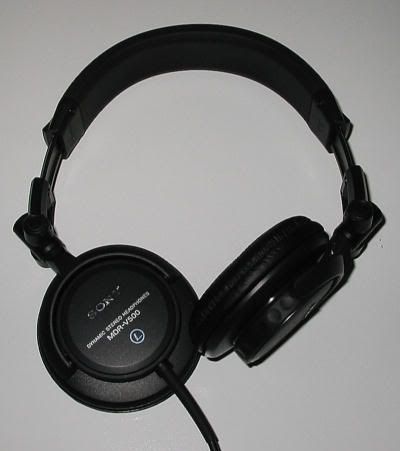 SOUND

In previous reviews, I've mused on the midrange, relative resolution, soundstaging, etc of the phones. For the MDR-V500DJ however, I'm glad to say that I can describe the sound in 1 succinct word.
That word is:
Shit.
The phones are surprisingly low in efficiency for a DJ-style phone intended to pump out the beats. The sound is scratchy and there is no real bass extension or power.
OTHER SECTIONS
Bearing in mind the above, I think we can cut all of those out and proceed to...
FINAL WORDS
These are the only headphones which I have actually thrown in the wastebasket (and I paid retail) after a period of trying my best to do something useful with them, because I couldn't really sell them to anyone else on Head-Fi with a clear conscience and I couldn't bear to inflict them on anyone I knew. They're extremely well built, stylish and relatively lightweight phones which happen to sound really bad. As for a family resemblance, it's big brother the MDR-V700DJ has nothing sonically in common with the V500DJ. Avoid like the plague.
SonyStyle Link