The ATH-D1000 is digital-only phone, which takes an optical TOSLINK signal, upsamples it to 96khz, amps it and plays it back.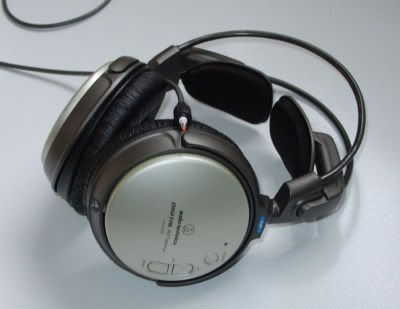 That's right, optical input only. No analog headphone jack on this baby.
I bought it as a gimmick given my Audio-Technica higher-end completist leanings. I was intrigued at how a digital upsampling phone would sound, and have to say I was in all honesty not expecting much. Opening the package revealed the now familiar to me ATH-A (A500/700/900) series lines with the exception of the battery compartment on top of the '3D Wings' and the buttons on the side. Unlike the
ATH-A900
and higher models by the way, the earcups are plastic. Tapping the earcups I was a bit disappointed. I expected at least the A900 build of alloy. I consoled myself with the thought that plastic it may be, but it's a very high quality level of finish. The earpads are the HP-A900, exactly the same as the A500/700/900.
The phone ships with a mini TOSLINK to TOSLINK cable. You can use this to connect directly to a deck with an optical out. You can also use the phone with portable, but you'll need a mini TOSLINK – mini TOSLINK cable. As I said, the phone
upsamples the signal to 96khz
before squirting it through a digital amp and then through an D-A converter. I have no idea how the upsampling affects the sound, as there's no way to turn it off. Audio-Technica quotes a BTL digital amp. The phone works with 44.1, 48 and 32khz signals. The phone is powered by 2 AAA Ni-Mh rechargeable batteries which are charged in approx 2.5 hours by the included, very neat world-voltage AAA/AA charger.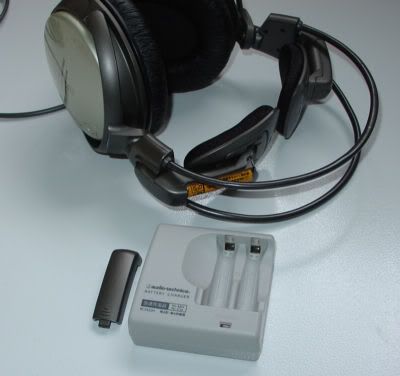 Comfort wise, the phones are in line with the Audio-Technica A-series. That's to be expected since the chassis is the same as the ATH-A900. It's very good for a closed phone, although those in hot climates may feel that it's a little too enclosed for their needs. Getting back to the looks and materials, cosmetically this phone is even less than the A900. It seems that what you get for your money over the $200 (from Audiocubes) ATH-A900 is the 'custom-developed for D1000' driver, the added electronics and the battery charger. $650 for a nearly all-plastic phone… The dissatisfaction was mounting by the time I put them on my head. Using a $30 Sony mini-to-mini cable I hooked it up to the digital source I had handy at the time (the iRiver iMP-550), turned it on (the on button requires a 'double-click') and pressed play.
As I said I wasn't expecting much.
My next words were: "Holy Shit".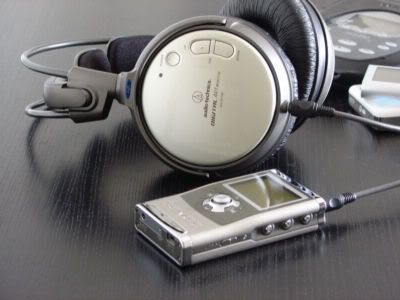 Hook it up directly to portable optical outs, not just home sources.
What I definitely was not expecting was a technical performance that's just a couple of notches below W2002/RS-1 with middle-class amping. And that's out of an iRiver to start with. OK, there's a bit more hiss than good amps should have, but by jebus it's genuinely bordering on high end performance.
The soundstaging on the D1000 could be described as 'headphones realistic'… with most sounds circling your circling your head, not too far away but well separated. On upbeat tracks, the bass is fairly tight, very punchy, elastic and definitely there, providing a driving compliment to the higher frequencies but never overriding it. This is the first new generation Audio-Technica phone on which I've heard the "DADS" (Dynamic Air Damping System, or Got To Think Of A Marketing BS Acronym That's Not Been Used Before) being implemented really well. Kick drums come across as described… with a kick, not a 'shlup' like some so-called hi-fi phones. Sometimes there's a mid-bass balloon that could possibly get in the way of the music, but it never crosses the 'dum-bass' border. There's no way to deny that the growling bass in "Battle Without Honor Or Humanity" for example adds to the casual menace of this track and that the kick drums are very effectively rendered. But the midrange and treble is the really killer part of this phone. As far as I can see, there's nothing wrong with it. It's neither recessed nor emphasised and it's done with a beguiling sense of smoothness while retaining plenty of detail. You will not find a trace of sibilance unless it's in the recording. This comes to the fore while listening to the Maxim Vengerov ("Vengerov plays Bach Schedrin Ysaye") and Talvin Singh ("OK") recording. It attacks when called upon but is otherwise incredibly well-tempered.
The overriding nature of this phone is a 'natural' sound. What the hell is a 'natural' sound? Transparent, bright-ish yet without a trace of added sibilance, decent but not ultra-wide staging, and a low end fully capable of adding weight to a performance. I would call it natural. Either way it's a rendition style that allows the quality of the sounds to be apparent yet for music to flow: for you to be able to 'listen to the music' instead of 'hearing the sounds'. It's a bit like an old comfy pair of slippers that nevertheless still manages to look new. The sound is quite lively, yet it's not natively aggressive. Neither is it soporific. And believe it or not, the ATH-D1000 does deliver the general Stax Omega II / SRM-007t sonic flavour, albeit without the resolution (and therefore less of that transparency). However that's not to say that the phone lacks in transparency given general dynamic phone performance: Poor recordings are exposed for what they are.
Is it worth it? To me an AKG K271S ($180) with a Ray Samuels XP-7 ($500) and a $50 interconnect is technically infinitesimally inferior to the ATH-D1000 and a $30 Sony optical cable, while the D1000 is musically considerably superior. There's obviously no provision for opamp-rolling and whatever to play with the sound, but I don't believe there's any need to play with it. It's very good the way it is.
So, it's an upsampling DAC, amp and excellent phone all-in-one, at a price that's somewhat below what you'd expect to pay for such a combination. If you're looking at building from scratch with a discount-store mid-fi home deck and don't expect to upgrade for a while, you could do a lot worse and spend a lot more than simply pairing it with the ATH-D1000. Even better if you own a Discman with optical out… these will really pep up the sound and more importantly be far more portable than dragging an XP-7 (or equivalent) around with you.
While the exact 'value for money' quotient is out to the jury for these phones, I think that the phones give a polished and hugely entertaining performance, and the DAC-amp in these phones really work. The sonic performance makes it definitely a master and not a jack of all trades, and it can definitely punch with the best of amp+phone combinations in this price range.
In my opinion, the all-rounder phone market has a new, unique and very serious contender in the shape of the ATH-D1000.
Manufacturer Link (Japanese)
Buy here:
Audiocubes