The Muvo TX is a low-cost flash-based player available in a variety of formats. If you don't need radio, then this is among the cheapest 512MB players you can get. The Muvo TX shares the design of previous Muvos... you have a unit that you can pull apart to reveal a USB jack, which you plug into the PC/Mac. The player is powered by a single AAA battery, which is good for about 10 hours... I've done no scientific tests on battery endurance. The Muvo TX comes in 128, 256 and 512-megabyte sizes. I'm reviewing the 512 Megabyte version (and IMO, there's not much point in going for anything smaller).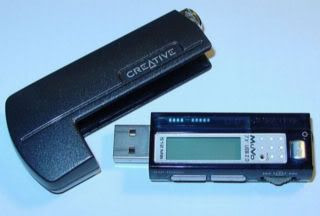 COMPATIBILITY
The player is a USB Mass Storage device, and is therefore recognised by operating systems which know about UMS (Windows 2000 & later, recent Mac OS versions) without additional drivers. It is shown as a drive in Windows so you just drag & drop to it. The Muvo TX recognises all Mp3's I've been able to throw at it stored one folder deep (i.e. one folder under root, no subfolders under that).
SOUND
The output is pretty clean, provides good dynamics and the built in EQ modes are effective. There is also a custom EQ mode which allows you to really muck up the sound ;) with an indicated +/- 14db adjustment in 5 frequency bands. The volume is loud enough for a variety of headphones, but generally speaking the more efficient the phone, the better. No complaints whatsoever about the sound.
DISPLAY
The small, effectively 2-line display is fairly brightly backlit and is pretty high resolution, allowing you to see exactly what the Muvo is doing.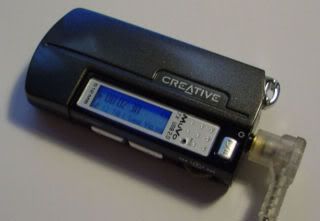 NAVIGATION

The menu system is simple to use and supports a wide variety of languages. One press of the jog dial takes you into the menu, and selection of the options is also carried out by the job dial.
TRACK NAVIGATION
The Muvo does not seem to read track numbers when playing folders, so you'll need to make sure that album tracks are labelled with a number in front if oyu want albums to play in the original order. As far as navigating in tracks are concerned, there is a Folder Skip feature and apart from that it is simply using the jog dial to skip tracks (brief jog) or to fast forward/rewind (hold jog). There is no 'go to time location' feature, so if you're listening to long audiobooks and want to go to a section, it's time for your thumb to suffer as it holds down the jog dial for a long time (in fast forward mode, the speed is roughly 10x) . Tracks can be repeated, randomly played, and A-B repeat markers can be also used. Individual tracks (the currently selected track) can be deleted from the Muvo without requiring a PC, although whole folders cannot be deleted.
VOICE RECORDING
The Muvo TX records WAV files, which can be dragged straight to the PC from the Muvo. The voice recording facility is simple to use and is somewhat low quality in nature. The pickup of the mic is not brilliant and the recording bitrate is pretty low, and unless it's for jotting down voice memos, one-to-one interviews in quiet surroundings and so forth, you may be disappointed with the quality.Still, no doubting it is useable and useful.
SOFTWARE / ACCESSORIES

The retail pack includes an armband/case, earphones, manual and CD... and a battery was included. I'm not exactly the running type, so I'm not the one to tell you if the armband really works ;) The CD contains additional software you can use with the Muvo in the form of Mediasource, Creative's MP3 ripper / loader / jukebox. Mediasource doesn't have the polish nor the immediacy of iTunes, but it is better than some others (such as Sony's basic and compromised Sonicstage) and packs in some useful features that other jukebox applications don't.
The Muvo TX is easy to load, easy to use and easy on the wallet. Recommended.
Manufacturer Link